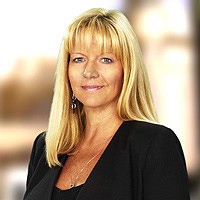 Tiani Mattus is a highly dedicated professional with exceptional organization, planning and client relationship skills. At Capital Estate Advisors, her responsibilities include ongoing maintenance of client files and records, daily updates of all phone calls and correspondence, and initiating transfers from other institutions to Charles Schwab. She is also responsible for transacting client requests for cash distributions, income, dividend payments, exchange-traded funds (ETFs) and wire transfers. She monitors and facilitates annual required minimum distributions and ensures completion of all client documents.
Tiani recently moved from Manhattan to Orlando with her husband, Joe, an accomplished artist. She is originally from Washington D.C., and later moved to Hanover, Pennsylvania, where she founded The Kramer Agency, LLC, under her maiden name. She built it from the ground up and ran her exclusive, highly successful insurance agency from 1983 until she sold it in 2010 and moved to The Big Apple. From 2010 to 2013, she helped set up the family business at Mattus Fine Arts with her husband. With a short detour in 2012, the family moved to the Tampa Bay Area.
In 2013, Tiani moved back to NYC and back into financial services, where she landed at Capital Estate Advisors. Her prodigious skillsets include a wealth of knowledge and experience in financial services that support the infrastructure at the firm.
Tiani loves visiting NYC's many museums. She loves the New York art scene and Broadway shows, and she travels when she can. Tiani is proud of her two grown children. Her daughter, Brynne, is married and lives in Oceanside, California, with their daughter, Brooklyn. Tiani's son, Chris, is a graduate of Auburn University, where he was a member of the nine-time NCAA champion and 16-time SEC champion Auburn Tigers Men's Swim Team, and he is now a manager at Disney World in Florida.